About Short Uganda Safaris Tour Holidays
Uganda offers incredible opportunities for short safari tours that allow you to experience its diverse wildlife, stunning landscapes, and vibrant culture. Whether you have limited time or prefer a quick getaway. Remember to check the current travel advisories and requirements before planning your trip, as conditions may change over time. It's also important to respect wildlife, follow park rules, and practice responsible tourism to ensure the preservation of Uganda's natural treasures. Overall, a short Uganda safari tour offers an exciting adventure, allowing you to discover the country's unique wildlife, breathtaking landscapes, and vibrant culture within a limited timeframe.
What to Consider About Short Uganda Safari Tour Holidays: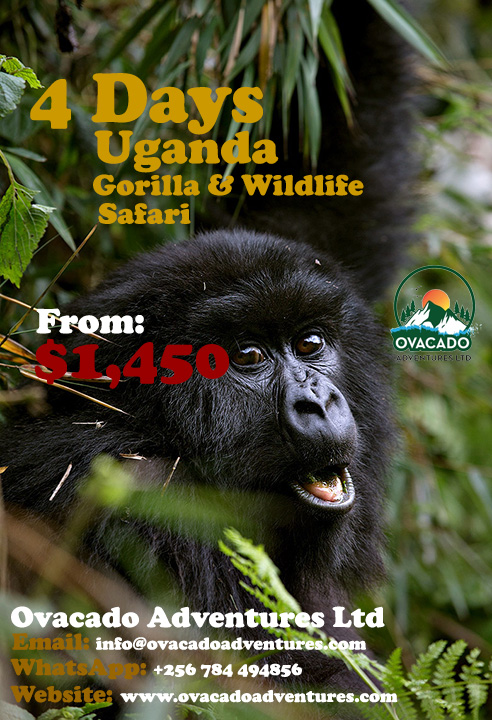 Duration
Short Uganda safari tours typically range from 3 to 7 days, depending on your preferences and available time. These tours are designed to provide a condensed yet fulfilling wildlife and nature experience.
Highlights
Uganda is known for its exceptional wildlife, including mountain gorillas, chimpanzees, elephants, lions, zebras, and numerous bird species. The country also boasts stunning national parks such as Bwindi Impenetrable National Park, Queen Elizabeth National Park, Murchison Falls National Park, and Kibale Forest National Park.
Gorilla Trekking
One of the most sought-after experiences in Uganda is gorilla trekking in Bwindi Impenetrable National Park. This activity typically requires a minimum of 3-4 days due to the trekking permits and the time needed to locate the gorilla families. It's an incredible opportunity to observe these magnificent creatures up close in their natural habitat.
Wildlife Safaris
Short Uganda safari tours often include game drives, which provide excellent opportunities to spot a wide variety of wildlife. Queen Elizabeth National Park and Murchison Falls National Park are popular destinations for wildlife safaris, where you can see elephants, lions, buffalos, hippos, crocodiles, and various antelope species.
Chimpanzee Tracking
Uganda is also known for its population of chimpanzees. Kibale Forest National Park and Budongo Forest Reserve are renowned for offering rewarding chimpanzee tracking experiences. Spending time observing and learning about these fascinating primates is a highlight of many short Uganda safari tours.
Cultural Experiences
Uganda is home to a rich cultural heritage, and short safaris often include visits to local communities. You can interact with the local people, learn about their customs, traditions, and even participate in cultural activities and performances.
Travel Logistics
To make the most of your short safari tour in Uganda, it's recommended to arrange your trip through Ovacado Adventures Ltd a reputable tour operator or travel agency. They can help with organizing accommodations, transportation, permits, and knowledgeable guides who can enhance your experience.
What to Carry for Short Uganda Safaris Tour Holidays?
When packing for a short Uganda safari tour holiday, it's important to consider the specific activities you'll be engaging in and the climate of the region you'll be visiting. Here are some essential items to include in your packing list:
Clothing:
Lightweight, breathable clothing for warm weather during the day.
Long-sleeved shirts and long pants protect against mosquitoes and for cooler evenings.
A light jacket or sweater for cooler temperatures, especially at higher altitudes.
Comfortable walking shoes or hiking boots for nature walks and treks.
Sandals or flip-flops for relaxing at the lodge/camp.
A hat or cap for sun protection.
Swimsuit, as some lodges have swimming pools or you might visit areas with water bodies.
Protective Gear:
Insect repellent containing DEET to protect against mosquitoes and other insects.
Sunscreen with a high SPF to shield your skin from the sun's rays.
Sunglasses to protect your eyes from the bright sunlight.
Travel Documents:
Valid passport with at least six months of validity remaining.
Visa (check the requirements based on your nationality).
Travel insurance documents.
Itinerary and any necessary vouchers or confirmations.
Emergency contact numbers.
Medications and Personal Items:
Prescription medications, along with copies of prescriptions.
Basic first aid kit with band-aids, antiseptic cream, pain relievers, etc.
Anti-malarial medication (consult your doctor or travel clinic).
Personal toiletries, including toilet paper and wet wipes.
Hand sanitiser for times when soap and water are not available.
A reusable water bottle to stay hydrated.
Electronics and Miscellaneous Items:
Camera or smartphone with extra batteries or a power bank for charging.
Binoculars for wildlife viewing.
Adapter plugs for charging your electronic devices.
Flashlight or headlamp for navigating in low-light conditions.
A good book or travel guide for leisure time.
Money and Security:
Sufficient cash in the local currency (Ugandan Shilling) for small purchases and tips.
Credit/debit cards and a money belt or a secure pouch to carry them.
A sturdy backpack or daypack for carrying your belongings during excursions.
Remember to pack light and prioritize essential items. Check with Ovacado Adventures Ltd a Reputable Uganda tour operator or travel agency for any specific recommendations based on your itinerary and the time of year you'll be visiting. Additionally, it's advisable to dress modestly and respect the local culture and customs during your safari tour in Uganda.
Proposed Uganda Safari Holidays